In this post, we will explain how to create IPTV M3u playlist that will allow you to play live TV from any device. The best part about this service is that it's totally free, and we no longer have to pay 70-80 dollars per month to watch a limited number of channels and programs.
To create a playlist, users can take advantage of professional tools like Xtreme editor, Tantrum IPTV editor, or M3u editor (any tool of the same kind works). OR, they can make a list manually using Notepad and import the txt file to VLC Player to reproduce the channels. Keep in mind that this is very tricky. The easiest way to enjoy IPTV content is to search pre-existing links on google and add them to an IPTV reproducer.
What Is M3u Playlist?
An IPTV M3U playlist is a list of URLs used to access your IPTV channels. Each channel's URL is listed in the order you want them to play. You can create a playlist from your own channels or use a service that will make a playlist for you.
There are several benefits to using the Iptv m3u playlist, including it being a great way to access a massive selection of movies and TV shows. It can be used on many devices, including smartphones, tablets, computers, and even TVs. The best thing about the Iptv m3u playlist is that it is free to use. You don't need to pay for access to the content.
How To Create M3u Playlist For IPTV With Software
Allow me to guide you through on how to create IPTV M3u playlist. You will need to prepare some offline software (downloadable from the internet) to make a playlist for IPTV. Later, if you want to share to list, you will need to make a remote link. I will give you all the details below.
Tools
To create an IPTV M3u playlist, you should have these software installed:
Xtream editor or Tantrum IPTV Editor
VLC Player
A browser, preferably Chrome or Firefox
Create IPTV playlist
Step 1: Go to squidtv.net using Chrome and search for all the channels or programs you want to watch. Each content has a separate stream URL. Copy the link of each content into Notepad or Word.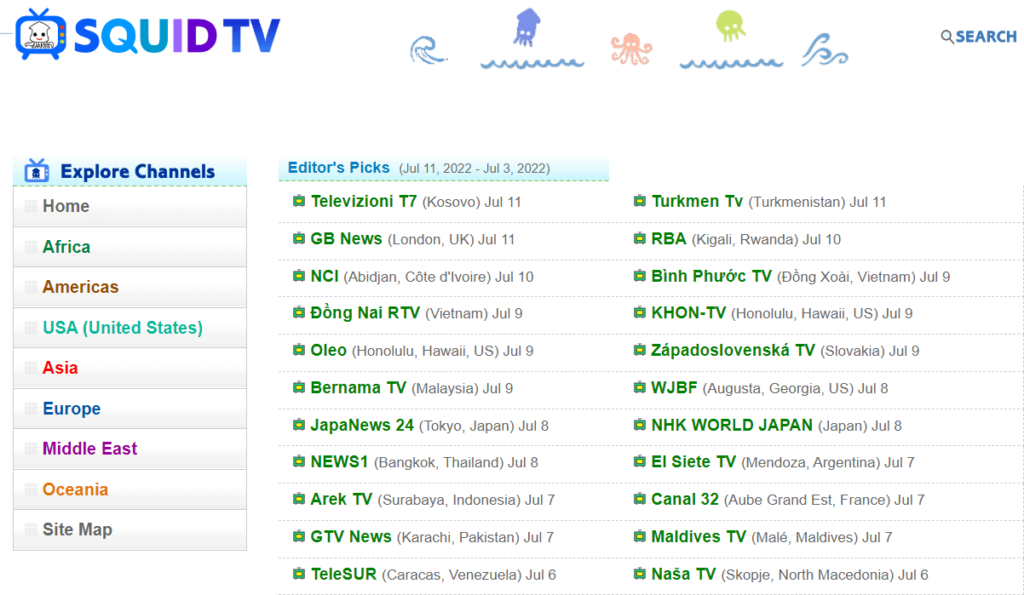 Step 2: Open Xtream editor or Tantrum IPTV Editor, and click File > New list.
Step 3: Fill in the information like Name, channel number, Group, etc. In the Stream URL tab, fill in the link of each channel that you have prepared. Remember that we can only add 1 channel at a time.
Step 4: Add the program to the list and repeat the step by filling the playlist with more TV channels.
Step 5: File > Save As > Save with .m3u file extension.
Step 6: Reproduce the .m3u file using VLC Player.
How to create IPTV URL
After creating the list, you can store it in your PC and watch TV channels live whenever you want. But, if you want to upload the IPTV list on the internet, you should create a remote link for the file by storing it in OpenDrive.
Go to OpenDrive website > Make an account > Upload the m3u file > When it's done uploading, click the 3 bars icon on the top right corner of the file > Links.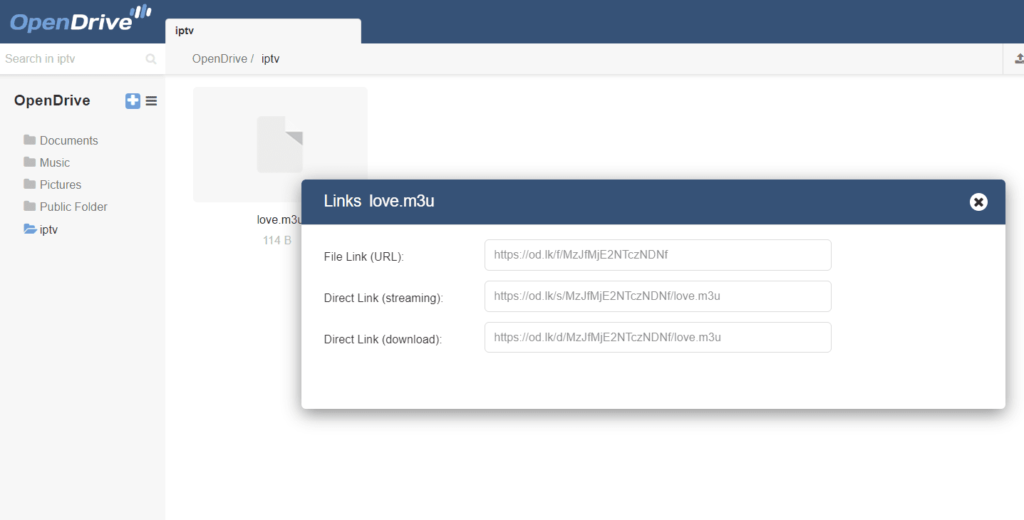 How to watch IPTV on Smart Tv and Android devices
To watch IPTV content, you need a software or simply an IPTV reproducer. You can check out apps like Kodi, IPTV Smarters Pro, PatoPlayer, or any other free services available for Android.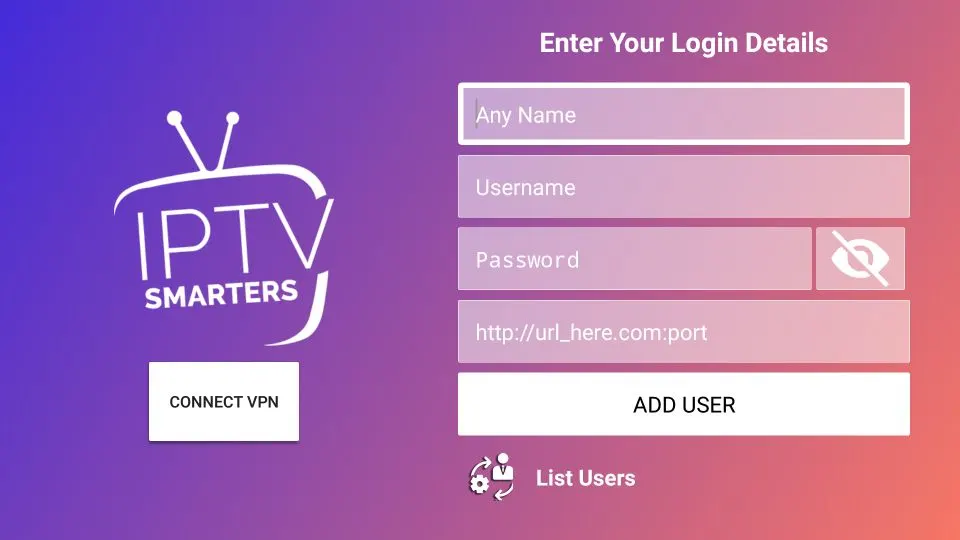 This applies to Smart TV as well. If the device has Google Play integrated, users can search and download any popular IPTV reproducer, like IPTV Smarter, which is commonly used for Smart TVs.
In case your TV doesn't have Google Play, you can connect it to your computer via an HDMI cable and turn the TV into a big desktop. Then, by reproducing the IPTV content on your computer and dragging the tab to the television screen, you can watch any movie, program, or news on the big screen, even if it isn't a Smart TV.
IPTV m3u file example
How To Create M3u File
Other than IPTV channel lists, you can create M3u file that contain other contents like MP3 song files or videos that you have downloaded. Check out how to create M3u file in different ways for different devices.
How Do I Create A M3u File In Notepad?
Step 1: Go to Notepad and write #EXTM3U in the first line, then click the Enter button twice.
Step 2: Go to pastebin.ga and search for channels you want to add to your playlist. For example, ABC News IPTV.
Step 3: Sort the results by Date to get the most recent links/ code that aren't expired. The format of the links is already applicable to an M3u list. If the format of the links isn't as follows, don't use them:
#EXTINF:-1, ABC News
http://abclive.abcnews.com/i/abc_live4@136330/index_1200_av-b.m3u8
Step 4: Double tap Enter and repeat step 3 to add more channels. Manually search, copy, and paste these links into the Notepad file that you have created. Now you have a playlist of television channels, videos, and audios to your liking.
Step 5: Save the file with .m3u extension by editing the file's name and type .m3u at the end of said name > Save as type: All Files > Save.
Step 6: Reproduce the file with VLC Player.
How To Create M3u File From URL Online
There are various ways to create an IPTV playlist. Most users will opt for finding a preset list on the internet and making changes to the list so that their favorite channels are included while unnecessary channels are deleted from the list. Creating a list from scratch requires a lot of work, and there are paid tools to do it, like Flussonic or M3U Editor.
Both are available to try for free in a short period of time, you can check them out!
How to create M3u playlist for Smart Tv (Also Android System)
For Smart TV and other Android devices, which mostly stream television content, it's advisable that users get premade links on some of the most popular sites that provide IPTV lists, like Github or Pastebin. Searching IPTV playlists on Google will provide millions of premade links, which we can simply add to an IPTV player.
If you want to make a list from scratch for your Smart TV or Android phone, you can try using Notepad or tools like Flussonic, Tantrum IPTV Editor, or M3U Editor, as we recommended above.
FAQs
Where To Get Premade Iptv M3u Playlist?
On Google, we can encounter a bunch of websites that update premade IPTV URLs for free.
https://github.com/iptv-org/iptv
https://iptvlistm3u.com/
https://iptvplayerguide.com/iptv-m3u-playlists-links-urls/
https://pastebin.ga/
How do I create m3u playlist from Youtube?
musconv is an online tool that allows users to make an M3U playlist from Youtube. You can download it for your Windows, Android, or MacOS device.
How do I make music m3u playlist?
1. Open Windows Media Player.
2. Upload MP3 files onto the Playlist.
3. Select the List options > Save list as.
4. Choose M3U as a playlist format.
5. Hit the Save button to create an M3U playlist.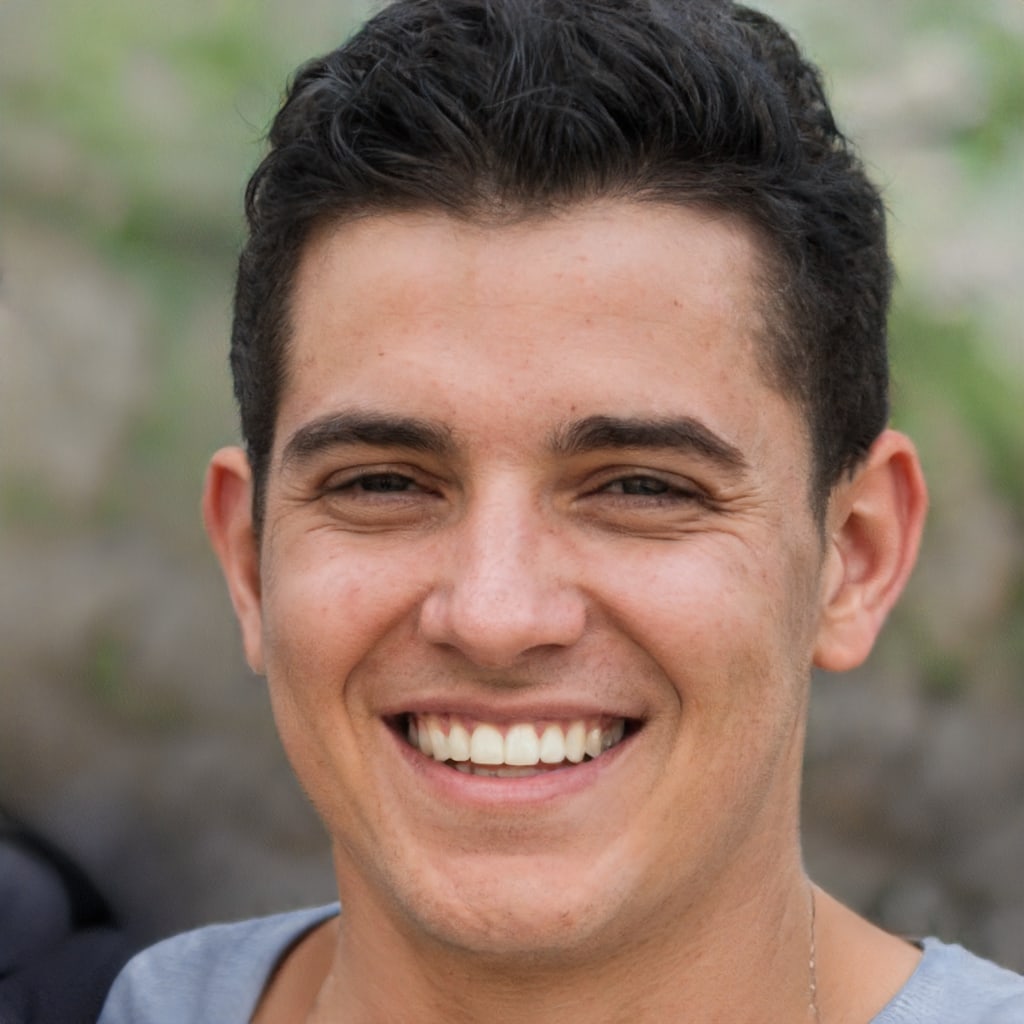 Andrew N. Keegan is a self-proclaimed "tech junkie" who loves consumer electronics. He loves Apple products and is always in line for the newest iPad. In addition, he loves technology, Office products, and social media.
He was continually attempting to figure out his family's computer. This thing led to an interest in how technology may improve our lives. He holds a degree in IT from NYIT and has worked in IT for over a decade. Since then, he's been hunting for new goods to share with friends and family.
Andrew N. Keegan loves video games, tech news, and his two cats. He's also active on social media and shares his latest tech finds.