As a new member of Archive of our own (Ao3), you might be wondering how to see your Kudos on Ao3 and how your fan fictions are performing among tons of other fics on the same topic. If so, you have come to the right place!
To revise who left kudos, all you have to do is open the fanfic and scroll down to the bottom of the work. The list of accounts that left kudos is right on top of the comment board. If you care for the total number of kudos only, you don't have to open the fanfic itself. Simply search for the fic's name, and Ao3 should return you with an intro panel where you can see the number immediately.
What Are Kudos On Ao3?

Kudos is a feature that lets creators know that they have received praise for their work. This is a great way to get feedback on your work without having to leave a comment. Kudos is a quick way to get instant feedback.
When you leave kudos on a work once, you can't repeat the action on the same work or other chapters in said work. However, it's possible to leave kudos on other pieces that belong to the same series.
How To See Kudos On Archive Of Our Own
Seeing kudos on Ao3 is very straightforward. Follow these quick steps to know the number of kudos for any work.
How to see your kudos on Ao3
To see the kudos of your own work on Archive of Our Own (Ao3), follow these steps:
Step 1: Log in to your Ao3 account: Go to the homepage of your Ao3 account. You can find it by clicking on your name at the top of your page.
Step 2: Choose My Works
Step 3: Check the list of work and find the fanfic you want to know the number of Kudos. At the bottom of the work, you can find info like language, words, chapters, and Kudos. The number of Kudos is updated in real-time.
If you are looking for the kudos of other work, simply find that fic in the search tool, and the position of the kudos should be the same as that of your fanfic.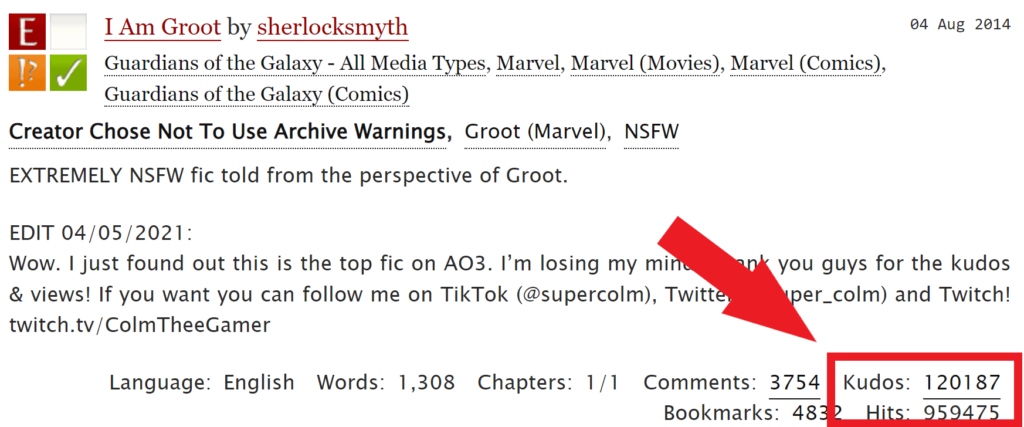 How to see works you left kudos on
By far, there isn't any way to view which works we gave kudos to. Remembering this non-existent feature is important since many users tend to leave kudos because they think the system will memorize it and store the stories in our dashboard or profile. But that's not the case.
The best way to revisit a work on Ao3 is to bookmark it. There is a separate section for bookmarked stories on the site. You can later check this folder and see each work you have saved, which you may have left kudos on.
Hits Vs Kudos Ao3
Hits and kudos are 2 different concepts on Archive of our own. We have a short explanation for you.
What are hits and kudos on Ao3
Hits are the number of times people click on your story to read it. As for kudos, this is the number of likes you receive on each work.
For better understanding, imagine Ao3 as YouTube. Hits are the total number of views a video has, and the system doesn't permanently store the view in your account.
On the other hand, kudos are the same as likes. You can tell how many people actually like the content and want to save it in the list of videos that I like. The concept is pretty much the same.
What is a good kudos to hits ratio
Many writers have debated the topic, but most agree that 5-10% of kudos over all the hits is a good rate. And having a story so engaging that you revenue 20% kudos/ all hits is a huge success!
Not every user who likes the fic will leave kudos, maybe because they are forgetful or simply don't think about it. Try to encourage readers to leave kudos and comments. If there are interactions, more people will follow. This is a common mental trick on buyers/ readers/ consumers.
More Ao3 Tips And Tricks With Kudos!
Aside from seeing kudos, we have some extra tips for you around this subject. See how you can remove, search, or get more kudos here!
How to remove kudos on Ao3
If you want to remove a kudo, you have to manually search the work, proceed to open it, scroll down to the bottom of the work right on top of the comment board, then tap the kudos button to "unlike" the work.
How to search by kudos on Ao3
Step 1: Open the main page of Ao3. You can type in keywords of the content you want to read beforehand, or you can leave the search tool blank. Click Search.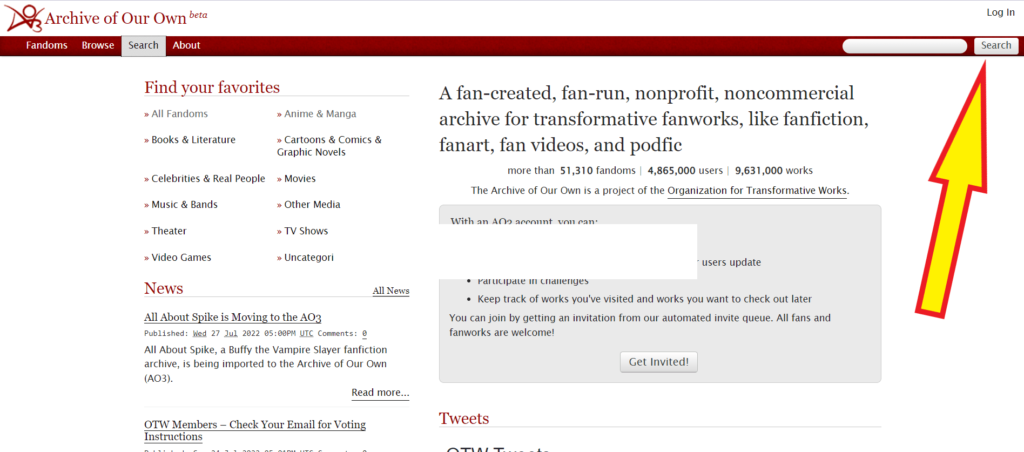 Step 2: Look at the right side of the page now. Click Edit your search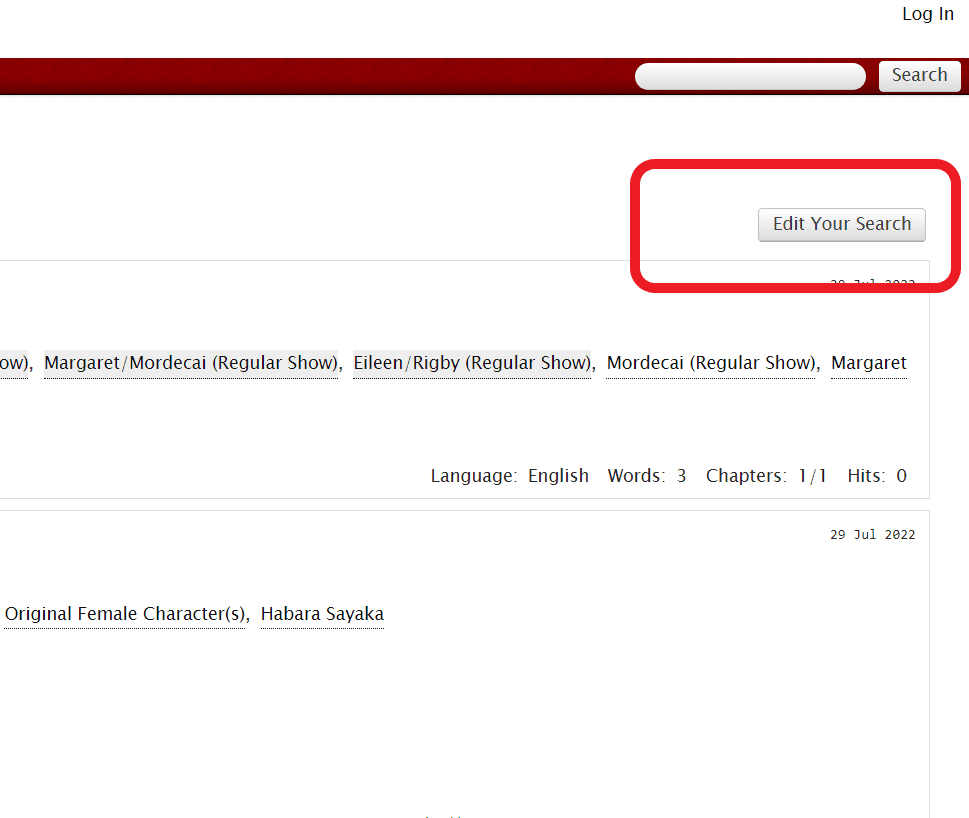 Step 3: Scroll down to the bottom of the advanced search tool and look for Sort by. Click on the drop-down list next to and you will see the option of sorting fanfics by kudos. Pick this option now.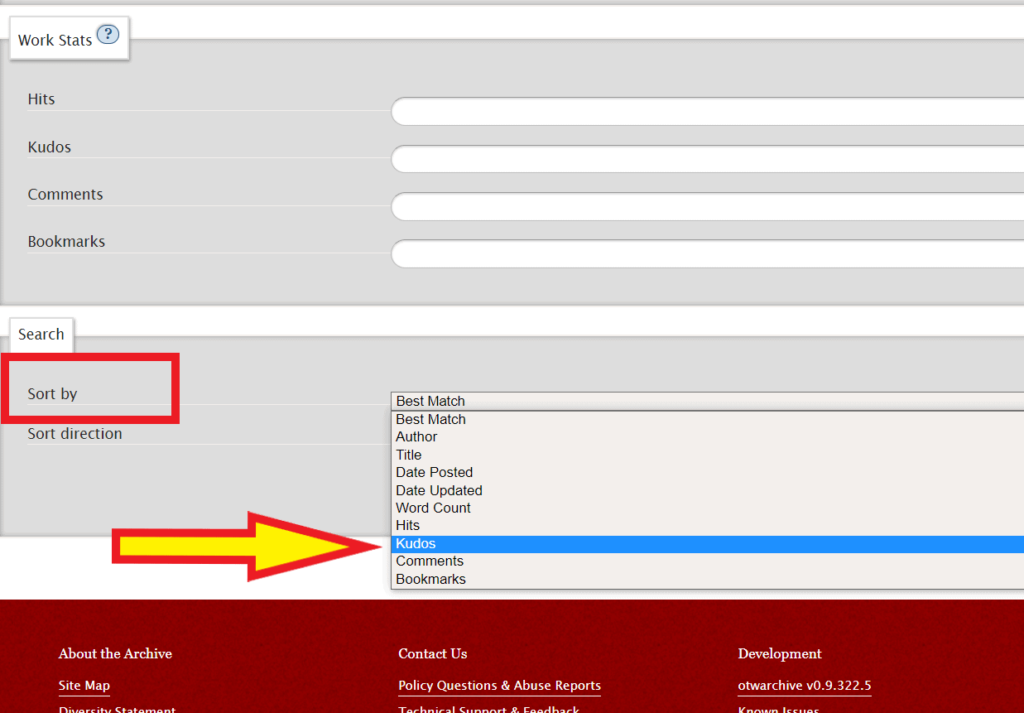 Step 4: Click on Search. Voila!
How to get more kudos on Ao3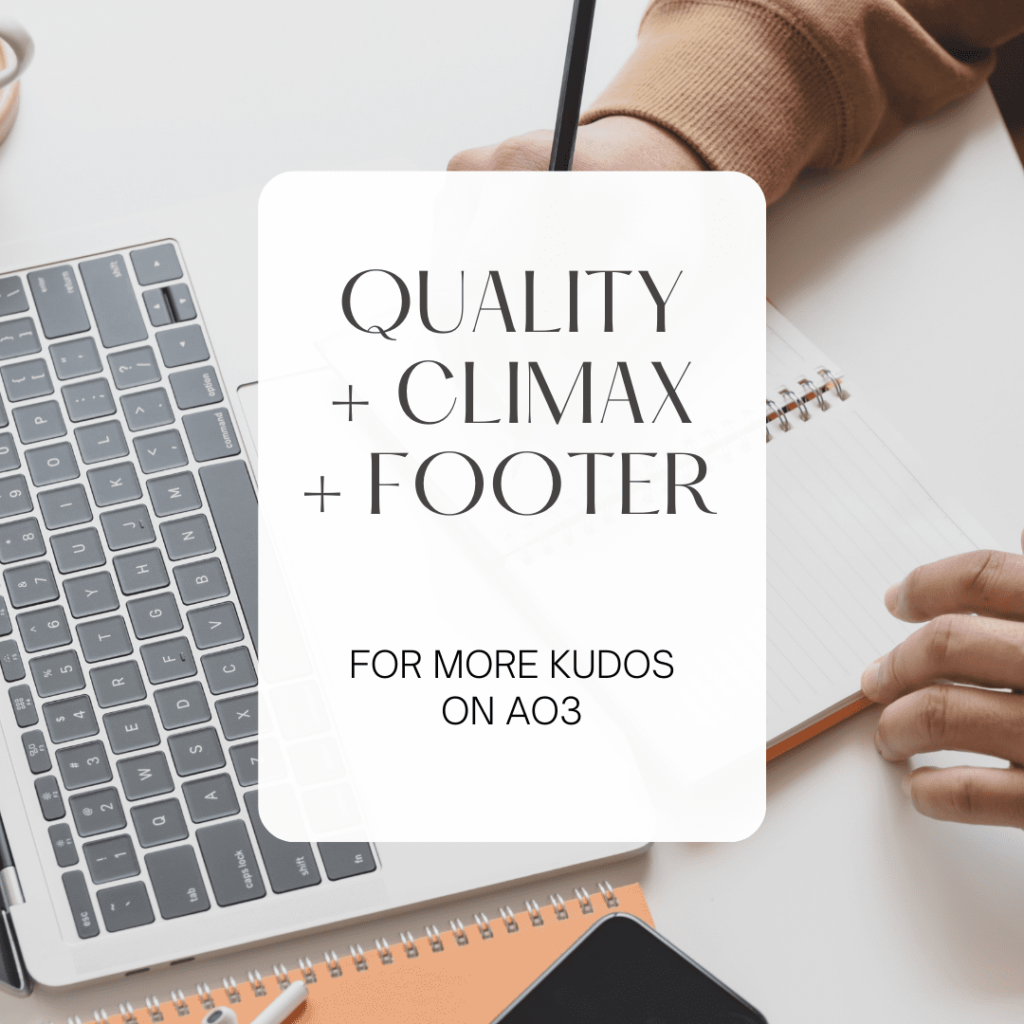 1. Improve the quality of your content: Readers won't hold back on kudos and comments on Ao3 when a fanfic is to their liking. Ao3 is a dream platform for amateur writers, and readers are very supportive.
2. Ensure there is a climax or at least a special plot detail: Any story with a good climax will receive a decent number of kudos. If you want to write a fluff fan fic, it's still important to sneak a "climax" dialog or action of the characters.
3. Take advantage of the summary and notes sections: At the beginning of each fanfic, writers can add a summary and notes. At the end of said work, there also is a notes section. Encourage readers to leave kudos because sometimes they can be forgetful. Telling readers at the beginning and end of a work to give kudos will improve the number.
FAQs
What fic has the most kudos on Ao3?
Where is Ao3 kudos history?
There is no kudos history section on Ao3. Readers have to manage it manually. It's advisable to bookmark the work that you like or give kudos to to avoid losing track of it.
Can you see your kudos on Ao3?
Yes, your kudos number will display the same way as other fanfics from other writers. You can go to My Work/ Works to see your fanfic's performance.
Can people on Ao3 see who i have given kudos to?
If you're logged in and have left kudos with your account's username, people can see that you have given kudos recently. But, if you left one as a guest, which means you navigate the platform without signing in, Ao3 will display the kudo as a guest kudo, without a name. This way, people can't link back to your profile and know your activities.
Can you take back kudos on Ao3?
Yes, it's the same as the like button on Facebook. You will have to unlike manually if you want to take back kudos.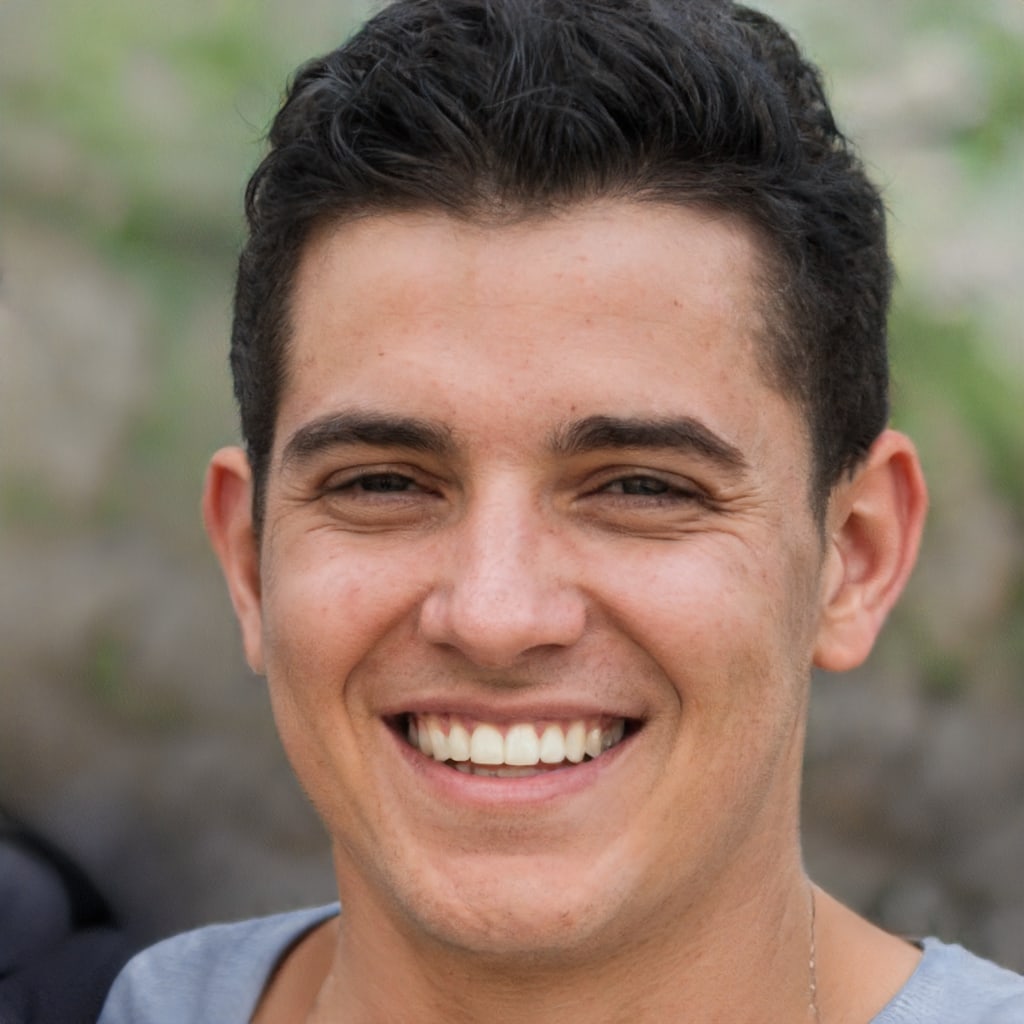 Andrew N. Keegan is a self-proclaimed "tech junkie" who loves consumer electronics. He loves Apple products and is always in line for the newest iPad. In addition, he loves technology, Office products, and social media.
He was continually attempting to figure out his family's computer. This thing led to an interest in how technology may improve our lives. He holds a degree in IT from NYIT and has worked in IT for over a decade. Since then, he's been hunting for new goods to share with friends and family.
Andrew N. Keegan loves video games, tech news, and his two cats. He's also active on social media and shares his latest tech finds.