If you are wondering where to find deleted fanfiction on famous platforms like AO3, Wattpad, or Tumblr, you are in the right place! In this post, we will tell you tricks on how to find deleted fanfics using Google, just like anybody else. You should prepare a good memory because you are going to need it for real progress.
The most effective way to recover a deleted fanfic is to go to ff2ebook and search for the fanfic name/ author/ code. The website will try to crawl through Google and return results in EPUB or MOBI extensions. We have tried it, and it works much better than Wayback Machine. Why? Wayback Machine requires users to crawl with a full link, not just a keyword. So unless you have the old link saved, there is no chance that the site will give you a good fanfic result.
How To Find Deleted Fanfic
Find out the steps to finding deleted fanfic here!
How to find deleted AO3 fics
Wayback Machine is the go-to search tool where to find deleted fanfiction if you remember or have saved the link of the original work that you want to crawl.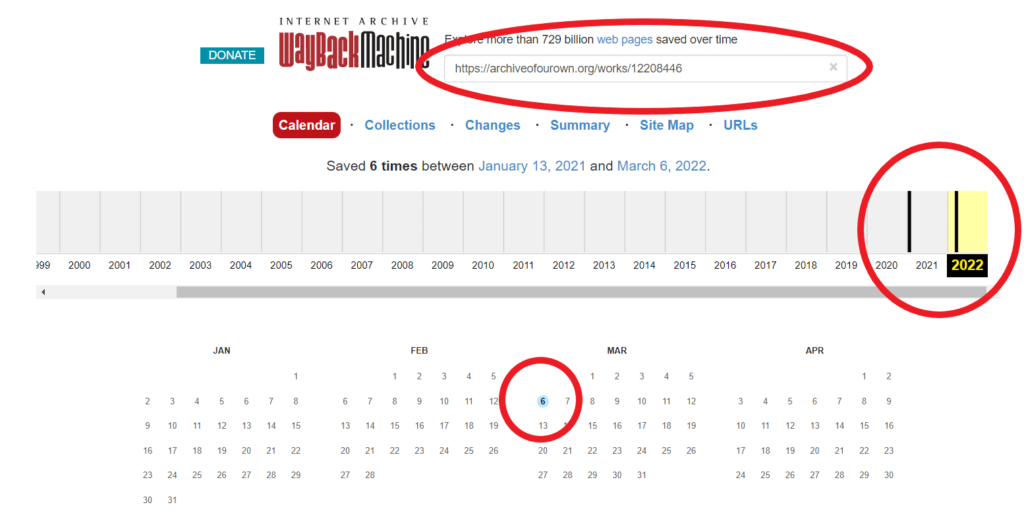 Follow these instructions to use the tool correctly:
Step 1: Access Wayback Machine.
Step 2: Paste the link of the deleted work that you know the link of into the search bar.
Step 3: Look at the year bar that the web provides. Click on a year where a black vertical bar shows up. Choose the year you believe the fanfic was in its best original state with the full chapters list.
Step 4: Look at the full-year calendar that shows up after picking the year. The date when someone archived this link will be highlighted. Click on it and choose one of the available snapshots.
Step 5: Wayback Machine will take you to the website of the fanfic and show you the exact state of the site on that specific date.
Find deleted fanfiction.net stories
There are numerous archives that fans use to save a fanfic when it's still available, and if you are lucky enough, you will be able to look up your fanfic of desire that someone has archived before. To do that, visit ff2ebook. This tool is specially designed for fanfiction.net, Wattpad, or FictionPress.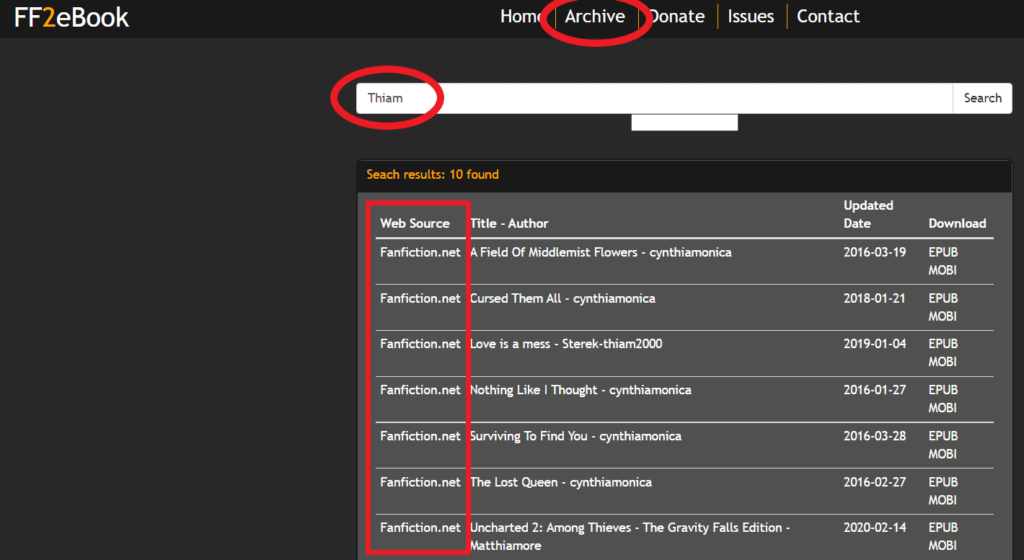 Step 1: Access ff2ebook.
Step 2: Click on the Archive tab for an easier search.
Step 3: Type in each of these pieces of information at a time, don't type them all in one go: fic name, author, fic ID. We recommend searching by title and author for better results. The ID feature isn't stable yet.
How to find deleted Wattpad stories
To find deleted Wattpad stories, you can use ff2ebook the same way we instructed above. Or you can do a manual search using a quote or make sure of the tool above. In case you are wondering about Wayback Machine, a tool that many would use to crawl old fanfics, it doesn't work with Wattpad. Wattpad is literally excluded from this online tool.
How To Find A Fanfiction You Forgot The Name Of
Without the title of the fic, you can only depend on two things: its URL or its quotes. Find out how to find a fic which name you don't recall here!
How to find a fanfiction you forgot the name of AO3
There are many ways to find an old and deleted AO3 fanfic. Still, the most basic and well-known trick is to think of as much of this information as possible: fic name, author, and a quote in the fic you are sure of. Then, if you know the fic name and author, Google should help you crawl the pages with those details.
In case you only remember quotes, even short ones, from the fic, look it up. The thing about quotes is that you have to play around a little with the searches.
Try to remember as close as possible the original quote from the fic and search on Google in this format: "quote." Putting the quote between quotation marks will signal Google to find results with the exact quote.
Try replacing words of verbs' tenses to make sure you are looking up the closest quote to one in the original fic as possible.
Don't worry about the punctuation because Google doesn't care about this.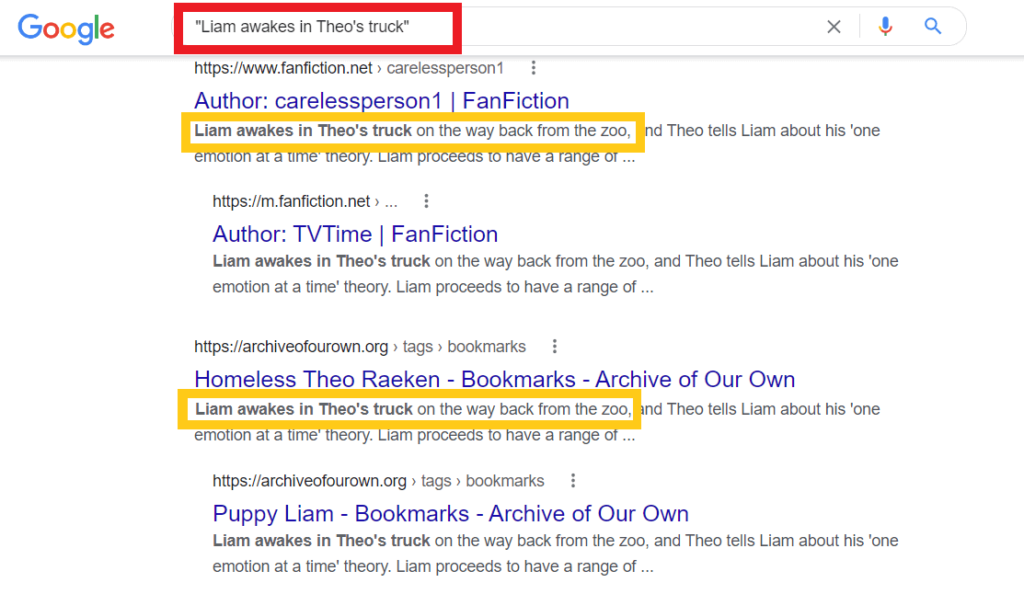 How to find a fanfiction you forgot the name of Wattpad
The best chance is to search by quotes. Why? Wayback Machine doesn't work with Wattpad, and ff2ebook works with the title and author name only.
Wattpad Wayback Machine
Wattpad was excluded from Wayback Machine. The tool doesn't even crawl any links with this domain. So your best shot is on ff2ebook. You can try posting on The Fic Finder to ask for help with strangers in different fandoms. Try to describe the fic as much as you can.
How to find a fanfiction you forgot the name of Tumblr
Tumblr is a huge fandom platform where you can find tons of fanfics. There is no doubt that the fanfic you are searching for belongs to a particular ship, and the ship has various groups where you can join and discuss shipping things. Try to get yourself into a fandom, or post a short announcement on the site tagging the ship's name and ask people for help in searching the fic. Fellow shippers will help you out.
Recover Deleted Fanfiction
The progress of finding a fic and recovering a fic by other authors is pretty much the same. But what about recovering a fic that you wrote yourself? Find out below!
How to recover deleted AO3 fics
There is NO WAY to recover a fic on AO3 if you do it yourself without archiving it on other sites like Wayback Machine. Furthermore, when you try to delete a fic that you wrote on AO3, it will ask you if you want to delete it or orphan the fic. "Orphan" means that you can cancel your relation with the fic, and it will become a work with no author.
This way, you can still eliminate it from your file while still having access to it later. We highly recommend orphaning fics instead of deleting them. Then, you won't have to regret it in the future.
Recover deleted Wattpad story
Deleting your work from Wattpad is a one-time action that can't be reversed. Alternatives to erasing your work include:
Revert your tale to draft mode, so it is only accessible to you as the author. For additional details on how this works, please visit the following post: Reverting a draft portion.
Before you permanently erase your work from Wattpad, save it somewhere else.
FAQs
How do I access Wattpad archive deleted stories?
You just cannot. There's probably a reason why they removed it. Suppose someone has just duplicated the content elsewhere or onto their profile. In that case, you can have a shot at revisiting the work you like.
How do I download deleted fanfiction?
You can try searching for the fanfic name on ff2ebook, which will return you with an EPUB or MOBI file. All you need is an app that can open files with these extensions.
Can I find stories deleted on Wattpad?
Deleting your work from Wattpad is a one-time action that can't be reversed. As a result, Wattpad is unable to recover user-deleted material. Before deciding to delete your work, you can revert your story to draft mode so that it is only accessible to you as the author. You won't regret this later on.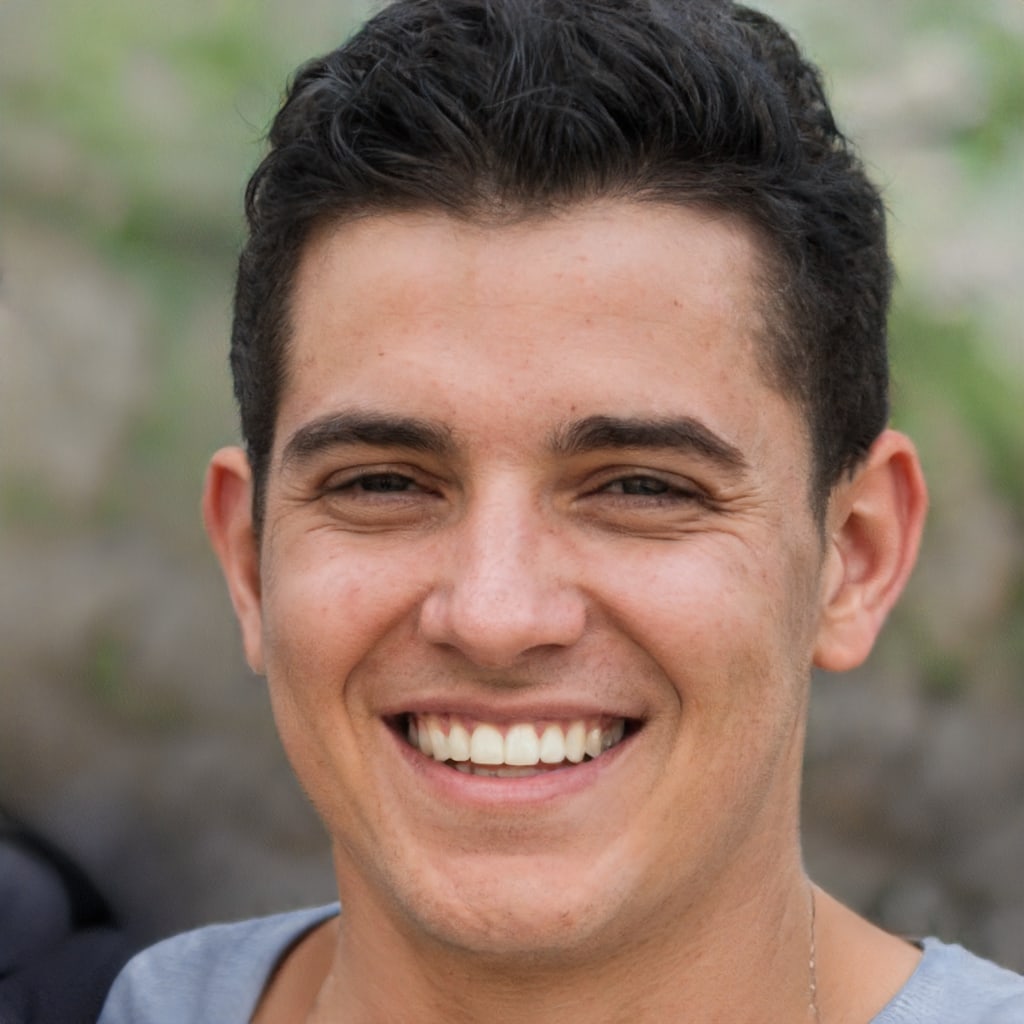 Andrew N. Keegan is a self-proclaimed "tech junkie" who loves consumer electronics. He loves Apple products and is always in line for the newest iPad. In addition, he loves technology, Office products, and social media.
He was continually attempting to figure out his family's computer. This thing led to an interest in how technology may improve our lives. He holds a degree in IT from NYIT and has worked in IT for over a decade. Since then, he's been hunting for new goods to share with friends and family.
Andrew N. Keegan loves video games, tech news, and his two cats. He's also active on social media and shares his latest tech finds.